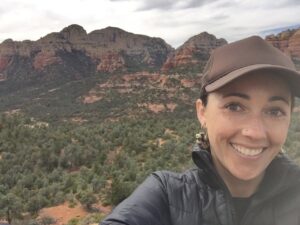 Dana Aronson
Instructor & Village Herbalist Director
Dana Aronson is a trained clinical herbalist who takes joy in community based, hands-on learning. She focuses her studies on bio-regional plants from the Pacific Northwest and intertwines them into her small practice and teachings. As a clinical herbalist and member of the American Herbalist Guild, she looks for more than just symptomatic patterns when working with clients. She offers support where healing can express itself in all facets – mind, body, spirit. Dana uses curiosity to dig deeper into the body's mechanisms and usher people to find their practices around overall well-being living. Dana's interests include mobile first aid clinics, working with folks around addiction, and harm reduction. Dana believes in offering accessible herbal medicine and digestible herb information so that people can feel empowered around their health.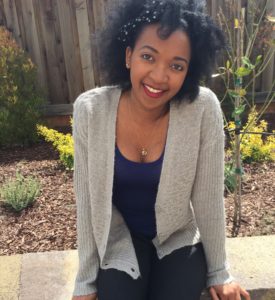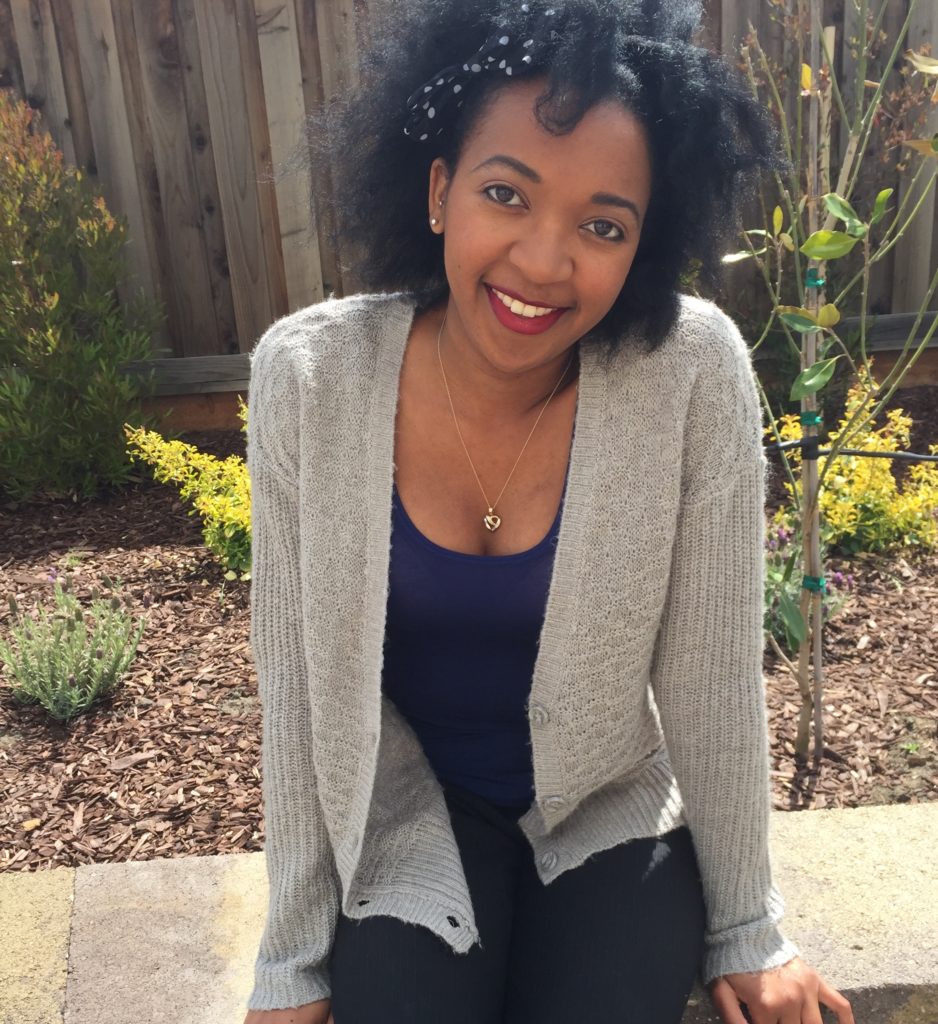 Camille Williams-Dunn
Instructor
Camille-Lillian is a California native with a deep love for people, and the Golden State. Herbalism has given her a pathway to deeper connections. 
Throughout her herbal training, she has welcomed a growing sense of responsibility to close the gaps between individuals and their own health by encouraging healing on all levels of the human experience. As an herbal practitioner, she wishes to empower people with the knowledge and tools to live their best lives. She is especially interested in bringing herbal wellness to those who feel that their health needs are not being adequately served in their communities.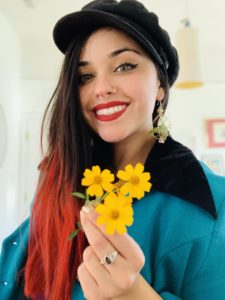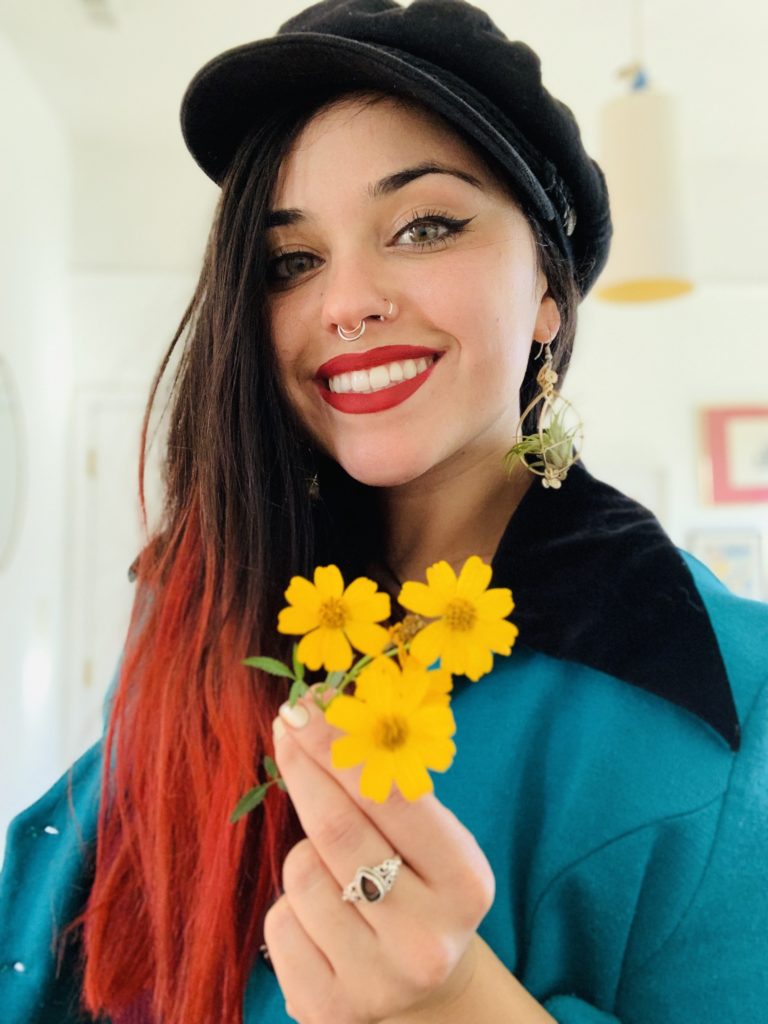 Ashley Campos, RH(AHG)
Executive Director & Clinic Supervisor
Ashley Campos is a certified clinical western herbalist and holistic health practitioner re-wilding, healing, and connecting herself with land and people through the magnificent lens of herbs. Pulling from her most difficult and triumphant life experiences, Ashley provides holistic, gentle, and comprehensive care for her clients. 
Ashley treats both acute and chronic focusing on diet & lifestyle as well as spiritual & emotional wellness. Some of her specific interests include blood sugar regulation, PCOS, GI wellness, and anxiety & depression. She also teaches classes on Western herbalism, medicine, making, and the magic & folklore of plants.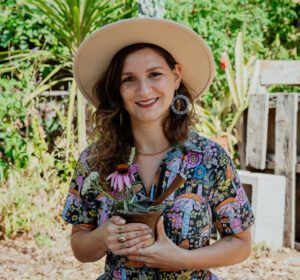 Jules Benefico
Marketing Director, Clinic Supervisor, Instructor
Jules Benefico is a Western Clinical Herbalist with a passion to help others uncover the mysteries of their soul and heal naturally. Jules focuses on allyship, forgiveness, gratitude, shadow work, pleasure, and solidarity as tools to aid her herbal work. She believes that herbal medicine is an accessible earth based healthcare system that digs deep to get to the root of ailments, not cover up symptoms. Jules runs a business called Boss Witch Botanicals where she supports herbalists and other healers blossom their businesses, she also offers consulting.
Jules teaches core classes for Foundations, Therapeutics, Apprenticeship, and Village Herbalist programs at BHC. She also leads workshops on the cycles of nature, conscious business practices, and herbal alchemy up and down the west coast. Check out Jules' on
The Herbal Astrology Podcast
.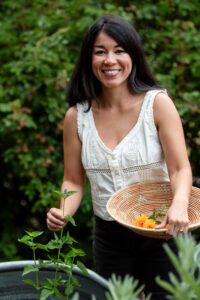 Veronica Ricksen, RH (AHG)
Instructor 
& Clinic Supervisor
Veronica is a Clinical Herbalist and certified Fertility Awareness Educator. She loves teaching women how to chart their menstrual cycles for natural pregnancy prevention, achievement or to use as a way to gauge their own reproductive and general health each month / cycle.

Veronica is a teacher and faculty clinician and also runs her practice, named Kapu, LLC which is dedicated to helping women live in tune with nature and their bodies. As an herbalist, her approach is to leave each session with the client feeling excited and hopeful about their health and wellness journey.

She is a mom and wife, living and loving in the East Bay Area.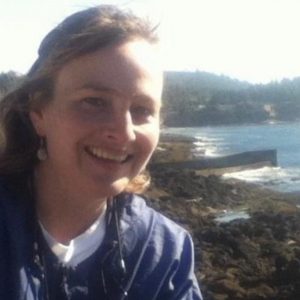 Kathryn McCabe
Instructor & Clinic Supervisor
Kathryn McCabe started dabbling with herbs as a kid in the late 70's and early 80's while growing up in
the Haight Ashbury. There weren't may herbal medicine books at the time, so she tried to teach herself with the one she found. Many mistakes later she settled on a few herbal allies that she always kept on hand to doctor herself and her loved ones.
She got a Bachelor's in Kinesiology (Human Movement) and believes that moving our bodies is key to helping keep us as strong and as flexible possible. She's worked as an Aide with Sport's and Orthopedic Physical Therapists, and now works with Physical and Occupational Therapists with Children with developmental disabilities and head injuries. She began studying at Berkeley Herbal Center in 2009 and by 2012 completed the Foundations, Therapeutics and Clinic Programs. She began teaching with Berkeley Herbal Center in 2018.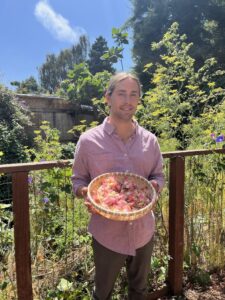 Tyler Dickerson
Herb Room Director & Instructor
Tyler is on a mission to bridge the gap between people and the incredible healing power of plants. As both an educator and a clinical herbalist, he's dedicated to empowering individuals to advocate for their own health. With a deep-rooted passion for herbalism that began in his adolescence, Tyler's journey has led him to extensive herbal apprenticeships and over a decade of personal study.
Having faced his own battle with autoimmunity and witnessed the disconnect between the healthcare system and personal health, Tyler is determined to find answers in the wisdom of plants. He listens to the plants as they offer insights into the myriad ways our modern society grapples with health challenges.
Tyler works with imbalances addressing a range of imbalances in the body, including autoimmunity, digestive problems, nervous system dysregulation (anxiety & depression), Cardiovascular ailments, and various other conditions. His approach empowers individuals to take control of their well-being through lifestyle, dietary adjustments, and the use of herbs.
In 2021, Tyler successfully completed The Apprenticeship Program and the Berkeley Herbal Center's clinical internship program, both year 1 and year 2. He now serves as an educator and a faculty clinician at the Berkeley Herbal Center, demonstrating his commitment to lifelong learning and the boundless knowledge that plants have to offer.
If you're ready to embark on a journey towards better health and well-being with Tyler, don't hesitate to book a session. You can reach him via email at tyler@Juniperautumnherbal.org or visit his website at Juniperautumnherbal.org. Tyler looks forward to guiding you on your path to a healthier, more balanced life with the support of the healing powers of plants.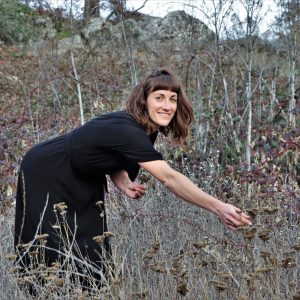 A tenderized New Yorkin Californian, Carissa is an untamed dancing flame of curiosity. She loves finding her true reflection amongst the golden California poppies and listening to the whispers of fairies in the understory of wise oaks. Find her in her original birthday suit tending the land, growing medicinal herbs and scrumptious vegetables, whistle painting beauty into the landscape with wildflowers in her footsteps.
In the realm of diploma-acy, Carissa is a Clinical Herbalist with a deep focus on female reproductive wellness, and currently she is working towards her larger vision of becoming a revolutionary midwife.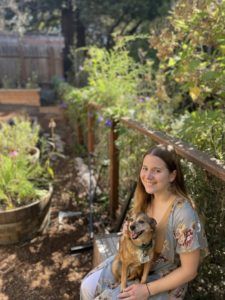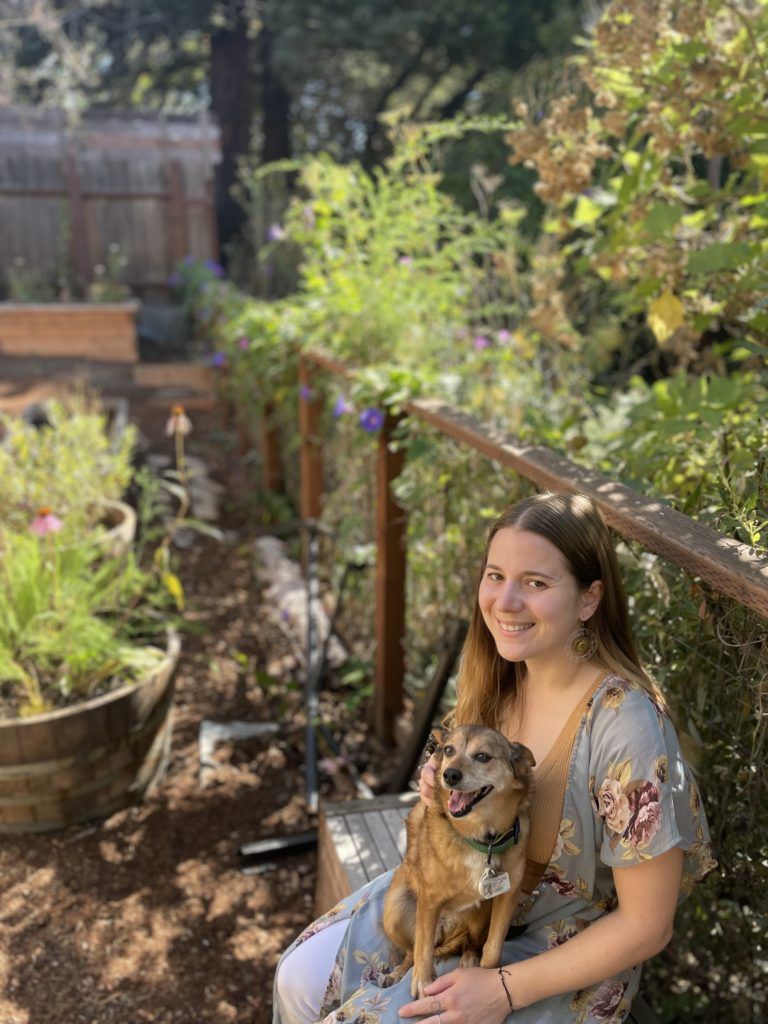 Alessandra Jones
Instructor
Alessandra (she/they) seeks to act as a facilitator between her clients and the plants; she believes that each person deserves agency when it comes to their health and wellbeing and views the client-herbalist relationship as a collaborative team. Her experience working as a practicing architect and coming back from burnout using a holistic approach led to an interest in working with clients to achieve balance in their everyday lives. She works with imbalance presenting as digestive issues, anxiety, depression, infertility, insomnia, recurring infections, and many other symptoms. She is particularly passionate about working with those experiencing irregular or painful menstrual cycles, as well as supporting clients in cultivating a healthy relationship with their sexuality across all genders, identities, preferences, and relationship structures. She has worked with a wide variety of clients from different walks of life, ranging in age from 19-80.
Alessandra is fascinated by the intersection of an evidence-based scientific approach and specific esoteric lenses; in addition to clinical herbalism, she offers the integration of various personal growth and spiritual tools such as mindfulness techniques, astrology, the Enneagram, and the Tarot into her practice for those who are interested. Beyond receiving formal training as a clinical herbalist, Alessandra considers herself a lifelong student of the 30+ plants she tends in her garden, as well as the wild plants that she identifies and observes through the seasons in the Oakland and Berkeley hills. As a core faculty member for the Berkeley Herbal Center certification courses, she believes in the importance of sharing knowledge, asking questions, and remaining curious about everything that the human experience has to offer through the lens of holistic herbalism.
You can read more about her background, philosophy, and current offerings at mavonessa.com or contact her at alessandra@mavonessa.com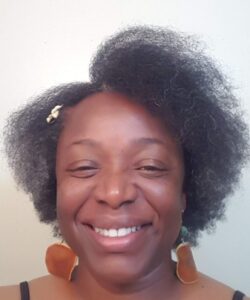 Shereel Washington
Instructor
Shereel Washington graduated from the California School of Herbal Studies, Forestville, CA in the Community Herbalist Program as a Clinical Herbalist, as well as certificates in Body Systems, and Herbal Crafting. She has completed over 1200 hours of herbal craft making training.

As an educator, Shereel teaches Black North American Herbalism and Medicine Making in various herbal certification programs in schools across Northern California, primarily, San Francisco Bay Area. As a herbal health, healing and nutrition practitioner and consultant, Shereel serves diverse ethnic communities in promoting natural health care and wellness through plant medicine. As an advocate of global cultural herbal traditions, Shereel is passionate about preserving the history, knowledge and expansion of the current practice of Black North American Herbalism.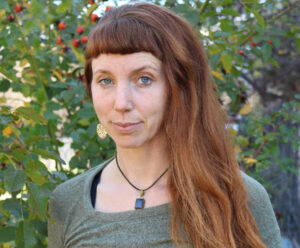 Stascha Stall
Instructor & Clinic Advisors
Stascha is a community centered clinical herbalist, medicine maker, apothecarist, and educator practicing in the Chochenyo Ohlone Territory so-called Oakland, California. Stascha has been studying herbal medicine since 2006 and seeing clients in free or sliding scale clinics for the last 14 years.
She prioritizes harm reduction and focuses on complex chronic conditions. Stascha also teaches medical students how to utilize trauma and queer informed healthcare during pelvic and chest exams. Teaching advanced students clinical herbal skills has become one of her favorite activities.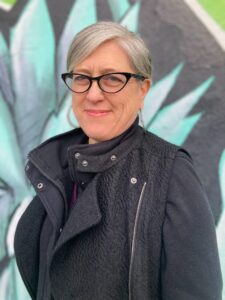 Lisa Fox
Instructor & Clinic Advisors
Lisa Fox is a clinical herbalist and licensed midwife residing in Chonchenyo Ohlone land, aka Oakland, CA. Her practice has a foundation in western herbalism from teachers such as Michael Moore, Adam Seller and Karen Saunders. Her training, long ago, as a medic at the Berkeley Free Clinic formed the basis of her clinical skills including acute care and gynecology. She has offered care in a wide variety of settings including remote villages of southern Mexico, a borderland birth center, an integrated clinic alongside doctors and nurses and in the streets and houseless encampments of West Oakland. She is the founding member of the Curbside Care Clinic, since 2018. Lisa is passionate about health education with an emphasis on prevention strategies, and is excited to share about the potent medicine of plants to promote community health and resilience.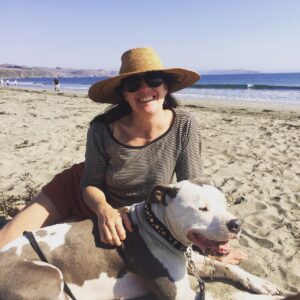 Kate August is a Bay Area native and admirer of the natural world. She believes that people, like plants, are strongest on the edge of diversity; that our external environment is reflected in the health of our internal ecosystems. Healthy foods and herbal medicines should be incorporated into daily practices.
Kate August is a Licensed Acupuncturist & certified clinical herbalist. She is staff faculty at the California School of Herbal Studies and adjunct teacher at Berkeley Herbal Center.
Founder of August Bitters, an herbal based bitters company, Kate teaches medicine making workshops around the Bay Area. When not crafting up delicious concoctions, you can find her playing in nature, preferably by the water's edge.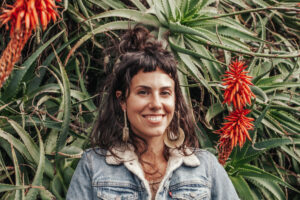 Devalina Waring
Instructor
Devalina is a clinical herbalist, whole-food chef, animist, beekeeper & educator. Originally from the West Coast of British Columbia, she has spent the last decade diving deep into herbalism, Traditional Chinese Medicine, functional nutrition and the natural world. Deva has been teaching herbalism classes at various schools in the Pacific Northwest and held herb camps throughout Northern California. She has a strong background in ethical harvesting, medicine making & herbal first aid. She is passionate about reconnecting people to land and getting people excited about plants. She is currently seeing clients through her private practice: www.wellrootedherbs.com and teaching a 6 month intensive course through Santa Cruz Permaculture. In her spare time she enjoys bee-centric bee keeping, exploring wild places and basket weaving.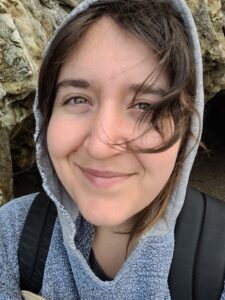 Lia Leibman (she/they) is a clinical herbalist, medicine maker, botanist, and avid plant-human match-maker. She graduated from the California School of Herbal Studies, from both the Roots and Community Herbalist programs, and holds a B.A. in biology from Whitman College. Lia is a devoted apprentice to their ancestral traditions and is overjoyed to teach Jewish ancestral herbalism, as well as many botany and human physiology courses. She is passionate about helping connect people to the plants, traditions, and healing practices that can help them thrive.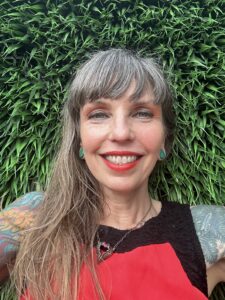 Hi. I'm Deia Pauline, a clinical herbalist, health educator, and herbal clinic coordinator. I help people include herbal medicines, nutrition, and holistic wellness strategies to enjoy a centered, purposeful, and vibrant life. 
My own healing journey, teachers, professional experience, and the plants themselves all deeply inform my practice. Having grown up in a chaotic household eating the Standard American Diet (SAD) resulted in me having migraines for many years starting at age five, a depleted immune system, chronic fatigue, depression and anxiety.
Discovering herbal medicines helped me understand my body, strengthen my mind, and find inner peace. Flora and fungi regulated my immune and nervous systems. I also used nutrient-dense foods, probiotics, breathwork and biohacking with herbal medicines which has allowed me to experience ease and grace, reconnect with my true nature, and restore a sense wonder. I feel more resilient now in my late 40's than I did in my 20's!  
This life experience uniquely places me in a position to help others transform their lives. I offer practical steps anyone can take to live a calm, purposeful, and exciting life.
Central to my practice is the use of plant medicines for healing from individual and collective trauma. I offer deep listening and aim to provide client-led, non-judgemental care.
I am a registered herbalist with the American Herbalist Guild, RH (AHG), since 2014 and have been in professional practice since 2008. I go by the pronouns she/her.
In addition to our regular Faculty and Staff, we have a number of visiting herbalists who teach classes for us on a seasonal basis and / or have contributed classes to our online course library.
Alexandra Hudson
Anna-Marie Beauchemin
Autumn Summers
Brigitte Mars
Francisca Santibanez
Julie Drucker
Terri Jensen
William Morris
Sami Graf
Lauren Gauthier
A Special Thank You to Our Founder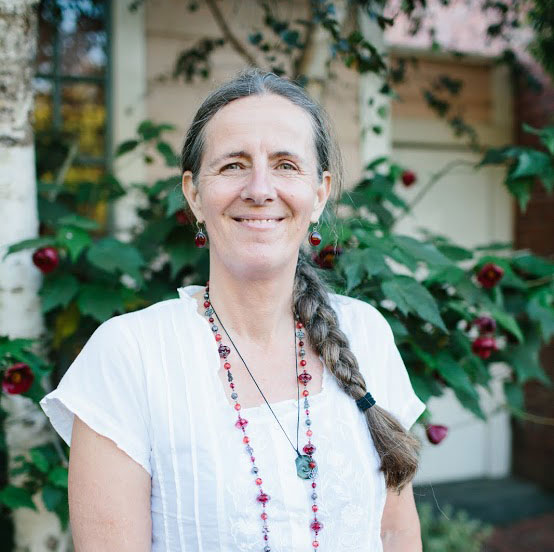 Pam Fischer, RH (AHG)
Founder
Pamela Fischer is the founder of the Berkeley Herbal Center in Berkeley, CA. Berkeley Herbal Center is a non-profit organization serving the community through its Western Herbal medicine school, community clinic, and robust dispensary. It is one of the few schools in the country that operates a year-round community clinic on site.
For more than 30 years Pamela has been studying plants and herbal medicine. After receiving her degree in eco-psychology, Pam became attracted to the herbal healing path and immersed herself into a well-rounded education provided by the insights and wisdom of Western scientists, Western herbalists, native healers, wise women, and witches. Her basket of tools includes Western herbal theory, Traditional Chinese pulse diagnosis, Ayurveda, and Tibetan medicine. She has spent countless hours and days camping and hiking in our local woods, working with local plant medicine, and teaching about their use and conservation.
Pam is known as a visionary leader and grass-roots organizer. She has inspired generations of herbalists to be a stand for change in our healthcare system. Many of her graduates have and are currently creating similar establishments to provide services locally. In this vein, Pam endeavors to free her community from a broken system and move them toward an era of healthcare based on prevention, compassion, and care.