Two Year Herbalist Certification Program
Foundations & Therapeutics
Our herbalist training program is for students that want to become a Certified Western Herbalist. 
The Berkeley Herbal Center Herbal Certification Program allows students to feel confident entering into a clinical herbal practice, working in a community clinic, creating an herbal product line, and embarking a on herbal education career!
This program is separated into 2 years, Foundations and Therapeutics. Foundations lays the groundwork of herbalism offering hands on experience in both the field and the classroom. Therapeutics is where students apply that framework and enhance their understanding of clinical herbalism.
This program track is designed to offer more flexibility for people who work full time but still want to gain an in depth herbal education.
After Therapeutics is completed, we offer a hands-on, real-time clinical experience through our year long Clinical Internship Program at our low-cost community clinic. Once the First Year Clinical Internship Program is completed then students become certified Clinical Herbalists and are ready to step into private practice. We also a Second Year Clinical Internship for further education and advanced mentorship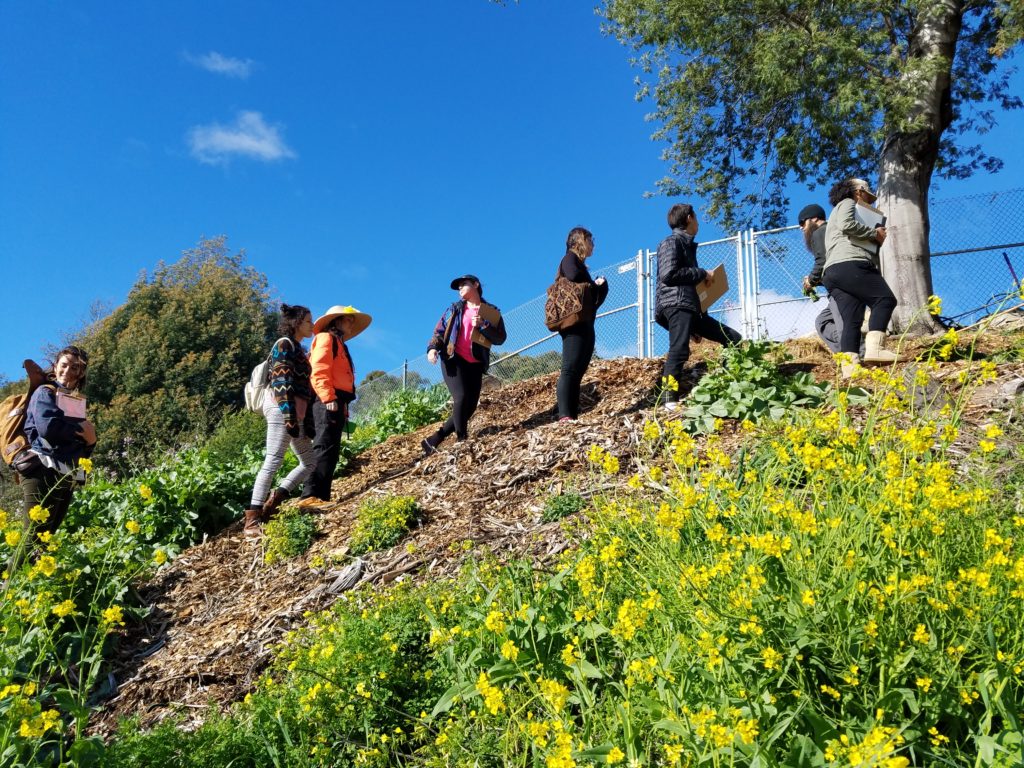 Applications for Foundations 2023 Open June 15th!
Once you've submitted your application and have been accepted please submit the deposit to confirm your spot in the program.
Thursday Evenings & First Sundays
September 14th, 2023 – June 27th, 2024
Thursdays: 6:00 pm to 9:00 pm
1st Sundays: 10:00am to 5:00pm
Berkeley Herbal Center Campus
1250 Addison St STE G
Berkeley, CA 94702
Application Fee (Due with application): $50
Deposit (Due upon acceptance): $1,100
Tuition ( Due before 1st day of class): $4,795
TOTAL COST: $5,945
Gain an in­-depth understanding of the complex functions and healing nature of many medicinal plants through immersive learning, herb sampling, and medicine making.
At the completion of the course, students will have a firm and well-rounded foundation in herbalism, including their own, self researched, comprehensive materia medica.
Students completing this course will be awarded a Certificate of Completion in Foundational Herbalism.
In this course students partake in an investigation into human physiology to begin understanding the complex interactions among reproductive, endocrine, nervous, skin, cardiovascular, urinary, muscular, skeletal and digestive systems. Students are responsible for completing more than 80 herbal monographs which are detailed reports about medicinal herbs. These monographs serve as a lifelong resource for students on their herbal journeys.
Our coursework is taught by Berkeley Herbal Center Staff and is built on experiential learning and knowledge handed down through the lineage of cross-cultural healing traditions.
The Foundations Year Covers the Following Topics
Botanical field study and identification
Creating a materia medica
Herbal preparation and intro to formulation
Herbal actions & phytochemistry
Herbal energetics, aromatherapy and flower essences
Herbal first aid and home health care
Herbal folklore & history
Natural cosmetics and skin care
Organ systems and physiology
Interested in the Foundations Program?
Applications for Foundations are open on
June 15th
Once you've submitted your application with the $50 non-refundable fee then our student services coordinator will reach out to you for a brief interview. The deposit is due upon acceptance to hold your spot in the program.
Herb of the Week & Medicine Making
Students will create their own medicines, learning how to craft extracts from multiple solvents, as well as creating creams, salves, teas, syrups, honey, oils, vinegars,  suppositories and more. They will gain an in depth understanding of a variety of medicine making techniques.
Each week throughout the program, students will be offered a single herb of the week to gain a deeper relationship with the plant. After working with the plant for a week students are offered a welcoming space to share their personal experiences with their classmates.
Field Trips & Additional Requirements
A substantial number of class hours are spent in nature, with extended trips to local environments such as the Sierras and the Pacific Ocean.
In addition to class every Thursday this course meets on the first Sunday of every month. The day begins with a local herb walk to cultivate a deeper relationship with the plants and get more comfortable identifying medicinals. The afternoon entails a comprehensive medicine making experience to deepen students knowledge of preparing plant extracts.
The Therapeutics year builds on the knowledge learned in Foundations.  Students engage in the critical thinking required to  become a holistic herbalist. In this program students learn advanced therapeutic strategies in assessing an individual's constitution and then apply herbal knowledge to support the underlying condition.
Wednesday Evenings & Second Sundays
September 13th 2023 – July 17, 2024
Wednesdays: 6:00pm to 9:00pm PST
2nd Sundays: 10:00am to 5:00pm PST
Berkeley Herbal Center Campus
1250 Addison St STE G
Berkeley, CA 94702
Deposit (Due with application): $1,100
Tuition ( Due before 1st day of class): $4,795
TOTAL COST: $5,895
Foundations program completion.
Additionally, we're now accepting transfer students who have completed a minimum of 150 hours of prior herbal training plus a minimum of 80 completed herbal monographs.
We revisit each body system through the lens of a clinical herbalist, studying how each system is interconnected with the endocrine system. Instructors utilize cases from their private practice and students are required to create their own herbal protocols for these cases. Then students present and receive feedback to gain clarity on formulation, contraindications, dietary considerations and more.
Students will begin to utilize their herbal knowledge and monographs from the first year's training program, along with their developing understanding body systems, lifestyle choices, nutrition and unique medicine making techniques. 
To Graduate from Therapeutics, students will need to complete a detailed pathology report, complex case studies on each body system, and demonstrate an understanding of the complexities of herbal formulation and medicine making.
Students completing this course will be awarded a Certificate of Completion in Therapeutic Herbalism.
Therapeutics Covers the Following Topics
Advanced herbal preparation
Botanical field study, botany, and identification
Clinical case studies
Constitutional theory and therapy
Creating a business, marketing and legalities
Herbal medicine formulation
Nutrition and dietary considerations
Pulse and tongue diagnosis
Pathology and herbal research
Record-keeping and case histories
Interested in the Foundations & Therapeutics Program?
Apply to Foundations above!
To inquire about transferring into the Therapeutics program contact: studentservices@berkeleyherbalcenter.org
We continue with Herb of the week, focusing on Adaptogens with specific indications for use. We will spend time deepening our diagnostic skills by focusing on pulse and tongue techniques and exploring constitutional  imbalances.
Each student will do a research project to graduate from this program. Students choose a particular pathology of interest and research the physiology of the dysfunction, and explore holistic treatment protocols for the condition.
Once this program is completed students are prepared to move on to the first year of our Clinical Internship.
Questions and Information
For more information on our certification programs, please email studentservices@berkeleyherbalcenter.org.
*Payment plans are available through Paypal credit.
Additional Costs: Tuition includes all instructional time and medicine making materials. Additional cost to students include travel and food for trip and the cost of textbooks. 
Not Ready For Long Term Learning Yet?