Every month we have the opportunity to touch base with a graduate of one of our certification programs. We call it our alumni series.
This month we're hearing from Herbalist Elizabeth Ready. She connected to herbal medicine through a psychic connection (of all things) and stopped a burgeoning career to jump into Western herbal medicine with both feet.
After becoming a mom, Elizabeth took another great big leap, shuttered her San Francisco practice and moved across the country to Asheville, where she's opening her herbalism and hypnotherapy practice!
Here's Elizabeth's Story:
A Psychic Awakening
My herbalist journey began in the most unusual way. I had always considered myself to be a "scientist", but I experienced a psychic awakening at age 29-30 that turned my entire world and all my belief systems upside down.
I started visiting psychics who understood what I was going through, and I also began to develop mediumship skills under the guidance of some of the founders of various spiritualist churches in San Francisco. I was totally baffled when psychics kept saying: "You should be doing herbal medicine." When the fifth psychic said it, I replied, "You're the fifth person to tell me that!" She looked me in the eyes and said, "When are you going to listen?" That was my big ah-ha moment.
I found an introductory herbalism class at Skyline College. I felt rather uncomfortable walking into that class because I was still asking myself what on earth I was doing there. I enjoyed the class, but more importantly I felt an inexplicable calling to continue this path of study.
With a little Googling, I was astounded to discover that there was a school in Berkeley called Ohlone Herbal Center, where I could completely immerse myself in the study of Western herbal medicine. I decided to put my career as an insurance broker "on hold," and I enrolled in the intensive program.
In a roundabout way, it was a logical step for me. I was born and raised right on Ocean Beach in San Francisco. Surrounded by the ocean and mountains, I found nature easy to love. I had done ecological restoration at UC Santa Barbara for three years and studied rainforest conservation in Australia. After college I continued with restoration in the Presidio as a volunteer. I had already been learning about plants and ecosystems for years, but I didn't know anything about their medicinal value. I was an insurance broker by accident. When I graduated college with a degree in Environmental Studies after 9/11, almost nobody was hiring, and insurance was the only opportunity that opened up for me at the time.
Elizabeth Ready's Healing Connection with Herbal Medicine
Herbal school felt freeing! I could take off the black suits and wear whatever I wanted, take field trips into nature and get to know all these fascinating new people. In class we smell, touch, taste and communicate with plants. The surprise challenge was that plants facilitate transformation and healing whether or not you want to hear it or think you're ready for it, so herbal school became just as much of a healing journey for each student as it was an education. Basically, plants will make sure you leave school with first-hand experience of their healing power.
My intuition played a significant role in my education. I could taste a drop of a plant I knew nothing about, not even the name, and I could close my eyes and see where it came from and how it could be used. So in addition to reading about plants, I developed a mental encyclopedia based on my visions. I keep my notebook of sketches from that time, and it's still magical for me to look through it.
The moment I started my clinic year, any doubts or confusion I had about following this calling evaporated. I instantly became passionate about working directly with people. Clinic gave me invaluable experience in developing not only confidence, but also my personal style as a practitioner, which increasingly included intuitive guidance and even energy work. Pam's ability to guide and mentor the clinic students was also invaluable, not to mention teaching us the practical matters of running a business.
Our culture in general has mostly lost touch with natural and traditional healing and has relegated it to something "alternative", out of reach, and out of touch with modernity, while many other Western nations don't view nature as alternative but as a necessity.
I am passionate about helping our people re-spark their own relationship with nature, leading to personal empowerment and improvements in mind, body, spirit.
Starting a Practice in Asheville, North Carolina
After herbal school, I decided to go to hypnotherapy school. I closed my private practice in San Francisco when I became a mom. I felt a calling to move to Asheville, North Carolina, a place I knew nothing about. The Blue Ridge Mountains and Smoky Mountains turned out to be very possibly the richest, most eco-diverse region in the nation for plant medicine.
I am opening my new office and apothecary, Asheville Herbal Medicine, in mid-September 2021. I offer herbal consultations and hypnotherapy in person or via Zoom. To learn more, you can follow me on Instagram @avlherbalmedicine or visit avlherbalmedicine.com.
I also have an online retail boutique called Avé Parfum—aveparfum.com where I offer a selection of the finest natural perfumes from around the world. Fragrance has always been a very big part of my life. I incorporate aromatherapy into my practice and enjoy learning about our sense of smell. A portion of the profits goes to various animal charities. It's @aveparfum on Instagram.
Current Favorite Recipe Share!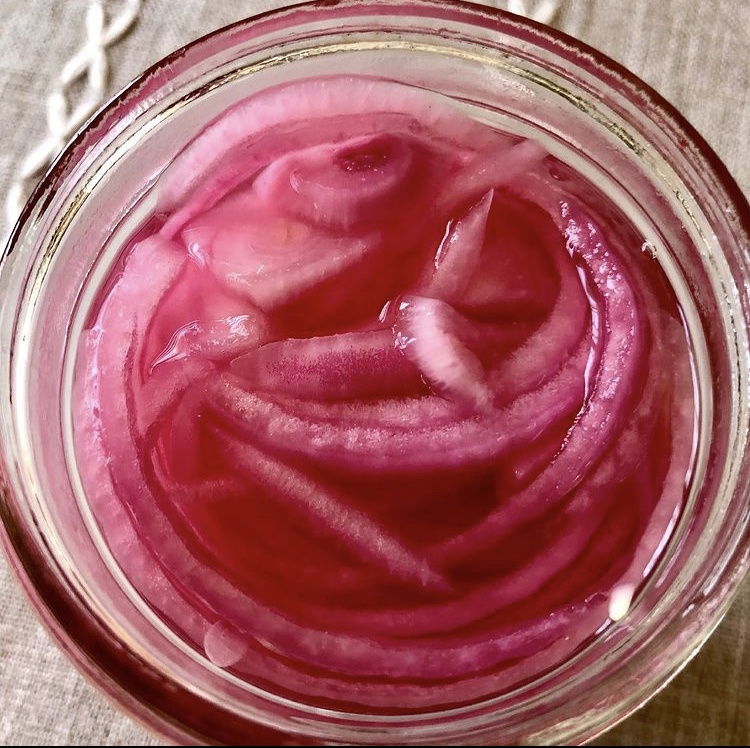 A favorite recipe lately is pickled red onions and garlic. It's tasty AND beautiful!
Slice one red onion and 3-4 cloves of garlic. Pile them into a small mason jar.
In a small sauce pan, pour in equal parts (about 1/2 cup each) water and vinegar (I prefer apple cider vinegar) and one teaspoon of sugar.
Heat just enough so that the sugar fully dissolves, but don't boil. Once the mixture is ready, let it cool a while, and pour it into the jar.
Cover and let sit in the fridge for 24 hours. It's so delicious on just about anything, but I can't resist using it to top off my avocado toast with crumbled goat cheese.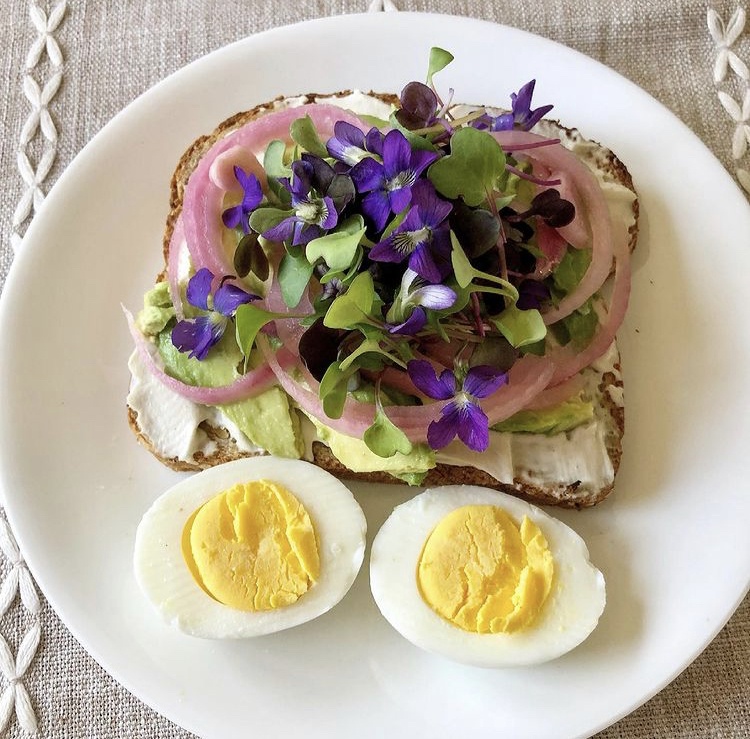 Are you an alumni of the Berkeley Herbal Center? We'd love to feature you! Send an email to info@berkeleyherbalcenter.org and let us know you're interested.