We are blessed to be a part of hundreds of herbal journeys from folks around the world. Each month we take the opportunity to honor that by sharing a former student's journey to herbalism with you. We call it our alumni series.
This month we connected with Ashley Campos. Her path to herbalism was a winding one that includes illness, a benevolent stranger, and an (almost) lost bloodline of herbalists. Now she's finding her way to a private practice closer to her roots – in Southern California.
Here is her story:
Herbalist Journey: Ashley Campos
Because I grew up in Southern California suburbia, the extent of my interaction with plants was growing grape tomatoes in the backyard with my dad or picking berries off of bushes to sneakily throw at my friends. My younger life may have had the occasional camping trip, but was mostly contained to an urban setting. This left me with this deep yearning to connect with the earth far and wide, and to see and travel to as many beautiful places as I possibly could the second I turned 18.
My Winding Path to Herbalism
Now, that's not exactly how the story goes… Instead of gallivanting around South America or Europe as I had anticipated, at 18 I found myself at UC Berkeley studying philosophy and rhetoric. Although in class I was learning some beautiful ideas, I was missing connection to the physical world, Asking, "how did all of these topics matter outside the vacuum of intellectualism?" I was craving to relate, to sink my feet into the earth, to connect with the world around me in a real and physical way, and to serve a community.
To pay the bills during college I ended up deep in the bartending world. I found myself falling in love with making bitters tinctures, syrups, and all sorts of delicious cocktail concoctions. Meanwhile, I was reading books on magical herbalism, elixirs, and brews. The alchemy of it all sparked something in me and I dreamed to one day have a little potion-filled apothecary of my own.
Finding – and Choosing – BHC
Post college was a difficult time for me so a roommate of mine suggested I attend the BHC community clinic as a client. I walked in and saw the apothecary shelf and my mouth went ajar–I wanted that; I needed to be a part of that.
After my consultation I went home, and, as many people do, I forgot to take my herbs– shoving them into a random kitchen drawer to shrivel up and die. Life went on and I had almost forgotten about the clinic until several months later when I found out my dad was sick. I was jolted into a state of desperation. I vehemently searched for some "cure" on the internet with little to know avail except for "drink apple cider vinegar" and "take turmeric." I knew there had to be a better answer out there somewhere, and that's when the Berkeley Herbal Center popped back into my mind and I spent hours and hours pouring over their website. After my eyes were burning from staring at the screen, I had my mind made up–I was going to herb school.
I did everything I could to enroll soon after but didn't quite have the funds. By some miracle, a complete stranger at a bar I was working at gifted them to me in a truly beautiful act of generosity. This kind stranger still, to this day, probably doesn't know how immensely they changed my life.
Ashley Campos and the Berkeley Herbal Center
The first day of my apprenticeship program I was terrified to walk through the door. But as soon as I sat down and my instructor began speaking it was as if the heavens had opened up and a light shone down on my face. I felt like I got the message, "This is EXACTLY where you are supposed to be. " My first day of herb school was emotionally intense, scary, and exciting at the same time. I really didn't know what I had signed up for and I had zero herbal background.
In my apprenticeship year at BHC I healed so much. It really was just one big, overwhelming, challenging, yet beautiful personal healing journey. The plants, the teachers, and my fellow aspiring herbalists completely held me through that process in an unforgettable way. I remember going to the desert and seeing Ocotillo for the first time. It was so profound that I burst into uncontrollable tears. I have gone back every single year since and visited that same Ocotillo– a plant that now feels like a sister to me.
A Deep Connection
Herb school gave me that deep connection I was looking for: connection with land and connection with community. Every person I have met in my time at BHC feels like family and BHC feels like home. And always will.
After finishing the Apprenticeship, I went on and completed both the First Year and Second Year Clinical Internships. At this time I began to get more deeply involved in the organization. First I took over the medicine making department, then I helped with the academic coordinating, and finally I became a core faculty member and teacher for all of the certification programs. I completely fell in love with teaching and working with clients. With the guidance of my mentor/BHC Founder Pam Fischer I have discovered qualities and abilities that I didn't think I possessed.
I learned to unabashedly step into myself and fully commit to this path. It was as if I was finally seeing myself for the first time: Ashley Campos–plant witch, teacher, medicine maker, phytochemistry nerd, tarot diviner, tree hugger, flower fawner, clinical herbalist, and listener. Listener to the plants, to the land, and to the world community whose birthright it is to engage, speak, and heal with these wise beings and wise traditions.
What's Currently Growing in Ashley's Life Garden
I am coming back from a much needed sabbatical that began with a magical trip to Peru. There, I learned that I need to explore herbalism through my ancestral lineage in a deeper way. I have recently learned that both of my great grandmothers were herbalists and that feels like a very special history that I am currently excavating.
After 11 years in the Bay Area, I am also transitioning my life down to Southern California, San Diego Area. There, I will be setting up a clinical practice, apothecary, and education center. Starting in August 2022 I am taking new clients for my online/in person practice! I offer clinical herbal consultations as well as guided plant spirit mentorships, herb walks, and classes.
I am also honored to be a Registered Herbalist member of the American Herbalist Guild and a continuing teacher and collaborator with the Berkeley Herbal Center. I am currently in the process of publishing my own medicine making guide for herbalists in late 2022. Stay tuned!
A Hug from Spring Recipe from Ashley Campos: Lilac Honey + Rose Water Milk Tea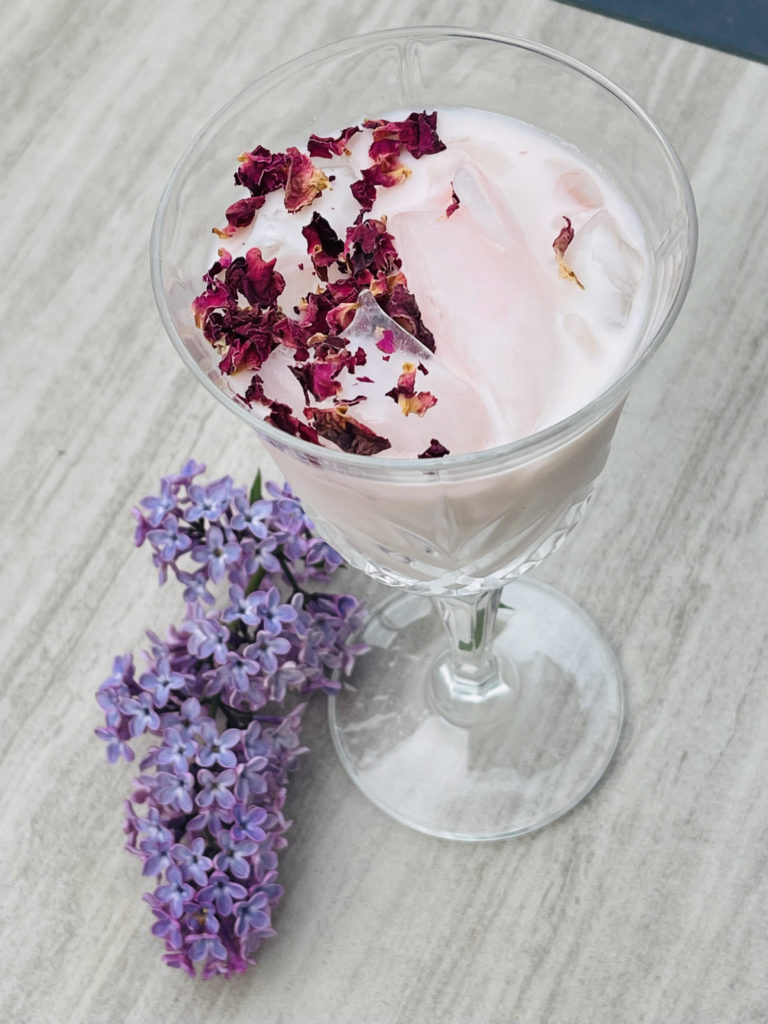 Ingredients:
Lilac Infused Honey (Directions Below)
Rose Water
Milk of Choice (I love oat milk or cashew milk)
Flower Essence of Choice (optional)
Dried Rose petals for Garnish (optional)
You can connect with Ashley Campos on instagram @eye_of_artemis or via email at eyeofartemisapothecary@gmail.com!
Interested in learning more about how you can become a registered herbalist? Take the first step by joining one of our certification programs here.