This year, bring your herbal nature to the holiday party with holiday herb cookies!
Using flavorful medicinal herbs in your typical cookies adds a unique flavor to your cookies and it lets you get a little bit more creative with your holiday flavors.
It is also a simple way to start thinking about using food as medicine. It is much simpler to get a client or a kiddo to eat their herbal medicine with a delicious
Best Herbs to Use in Holiday Herb Cookies
Not all herbs make the best additions to your holiday herb cookies.
Lavender
We include lavender in many of our recipes because it is a familiar flavor for most people and an incredible healer that is safe and effective for everyone. Lavender offers a floral, sweet herbal flavor with notes of bitter (if you bite into the flower) when used in food. It's delicate, so you have some play with how much you use, but it can overpower a recipe if you use too much.
Rosemary
Rosemary is a culinary spice, so you probably already know how to use it in your savory dishes – but have you ever tried rosemary in a sweet dish? A little bit of rosemary adds a lovely flavor complexity to a holiday herb cookie that can be too sweet. Rosemary is a stimulating ally and nice when you're feeling overly full – as one does after big holiday meals!
Rosemary is high in essential oils, so you don't need too much in a recipe. It can overpower a cookie like the shortbread below.
Rose
Rose is subtle and sweet, like the vibration of love it adds to every dish. It adds a delightful flavor to your desserts and is best used with light sweet treats like shortbread cookies, scones, angel cakes, or shortbreads. With rose, you can use petals for beauty, but they will not offer a lot of flavor. Consider replacing the water component with 50% rosewater, or use one or two drops only of rose essential oil.
Clove
Clove is an antimicrobial that can help regulate blood sugar overtime, which is why you typically see it used as a chai spice. A lot of folks are afraid to use this ally in food and desserts because it boasts a strong flavor that can easily overpower a dish but when you know how to use it, clove can elevate a dish by adding depth and complexity that most spices cannot compete with. Because of that complexity, you can use the clove spice in sweet and savory dishes. It does take practice using this spice in your food so start small. Aside from a batch of gingery holiday herb cookies, try a pinch of clove in dahl, homemade biscotti, or coffee cake to pair with your Christmas morning coffee.
Cinnamon
Cinnamon is probably the most commonly used medicinal in desserts and has been used for ages to help with blood sugar and metabolism – perfect for adding to the sweetest of treats. Like clove, cinnamon is useful in both savory and sweet dishes. It is a secret ingredient in the best vegan chili and ginger snap cookies and a fantastic ingredient in holiday desserts with fruits and vegetables like baked Alaska, pumpkin pie, and cherry turnovers.
A Favorite Holiday Herb Cookie Recipe: Herbal Shortbread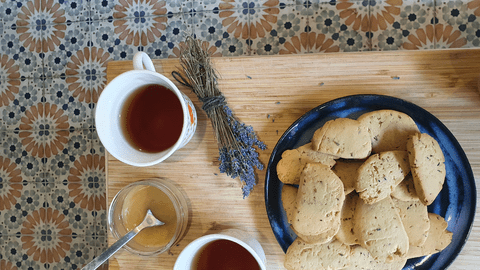 Shortbread is easy to make on the fly – it literally takes 30 minutes from mixing the ingredients to pulling the cookies from the oven – and you can make it with honey so it does not increase the white sugar in your diet. That is a huge plus for holiday cookies, which can often be sickly sweet.
This recipe was adapted from the honey shortbread from clean eating with kids. Note that adding herbs to the recipe will change the sweetness. We choice lavender and rosemary for this, which cuts back on the sweet flavor of shortbread. Rather than adding more honey to the recipe, we added a very thin glaze of honey on top.
Holiday Herb Cookies Ingredients
.5 cup butter
1.5 cups flour
.25 cup honey
1 tsp herb of your choice (we used rosemary and lavender)
Holiday Herb Cookies Instructions
Heat your oven up to 190F or 370C.
Line your baking tray with a silicone baking mat or parchment paper.
In a large mixing bowl add the softened butter and honey. Using an electric mixer beat the two ingredients until it is fluffy.
Add the flour slowly and continue mixing so that it completely incorporates. The mixture will turn into a dough.
Dust your work top with flour and roll the dough out until it is about ¼ inch thick. Then use your favorite cookie cutters with shortbread mold and put them onto the try. They will not rise very much, so they can be rather close together.

If you do not have cookie cutters, roll the dough into a snake and cut slices with a sharp knife.

Bake for 12 minutes, or until they start to brown, and then cool.
Did you make this recipe? Let us know in the comments.